Kochi 2019
Kochi 2019

WRI India Ross Center for Sustainable cities and Toyota Mobility Foundation (TMF) in collaboration with Kochi Metro Rail Limited (KMRL) jointly launched the Station Access and Mobility Program (STAMP) Data Innovation Challenge on Wednesday, a competition to seek possible innovative solutions and visualizations to improve first- and last-mile connectivity to metro transit in Kochi, India. At the launch, there was a participation from the Government of Kerala, Kochi Metro Rail and other city stakeholders that shed light on the importance of data innovation in public transportation and its role to shape cities in the future.
Objective of the Innovation Challenge
In March of 2018, KMRL became the first metro agency in the country to open its data in a machine-readable format putting India on the global map of progressive agencies committed to make its services more accessible to commuters. Taking this initiative forward, the challenge is making available mobility and non-mobility datasets to enable city commuters in making informed commuting choices, allowing for a more optimized use of their time and other resources.
The challenge seeks to leverage talent across the country and is open to developers, students, urban and transport planners and enterprises to analyze and develop a host of applications that allow an easier understanding of all available information. By having focused teams analyze and develop a host of applications that allow an easier understanding of information, the initiative aims to help bridge the many commuting and accessibility challenges being faced in the city of Kochi.
The Data Innovation Challenge seeks out solutions in two tracks:
The Technology Challenge: Where participants will be invited to develop data-driven, technology interventions to improve accessibility to transport services for all demographics of the city or support the agency in increasing ridership or increasing efficiency.
The Visualization Challenge: Where participants will be invited to use data points to develop innovative design-based approaches to visualize urban transport in Kochi. These visualizations can help city stakeholders identify gaps in the transportation network.
The two tracks are also set up as a two-step process to ensure quality solutions that can be developed further and integrated with the city and stands to benefit its citizens.
The Qualifying Hack will enable participants to innovate under certain boundaries using partial data sets to test their understanding of the city.
The Final Hack will allow shortlisted teams to access all data sets to develop prototype solutions and detailed visualizations that can be developed further and implemented in the city.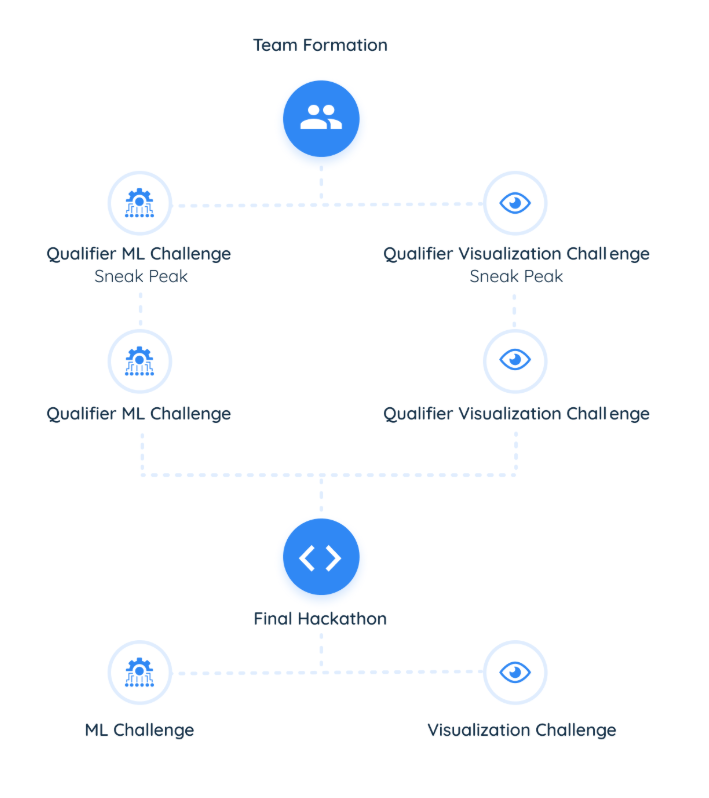 The STAMP Challenge will offer the winning teams research grants and mentorship with a possible opportunity to develop their solution with the city.
Who Can Apply
The Data Innovation Challenge does not limit participation from individuals with programming and design capabilities alone.
The challenge also encourages participations from other disciplines like urban planning, transport planning, economics, and any other practice that warrants an understanding of urban systems.
Enterprises are also allowed to participate in the challenge.
Important Dates
Launch of the Innovation Challenge: 30th January
Registrations for the Challenge: 30th January to 14th February
Qualifying Innovation Challenge: 14th Feburary to 17th Feburary
Final Innovation Challenge: 22nd Feburary to 17th March
Announcement of final shortlist: 22nd March
Jury presentation and announcement of winners: 27th March/28th March