Hyderabad 2018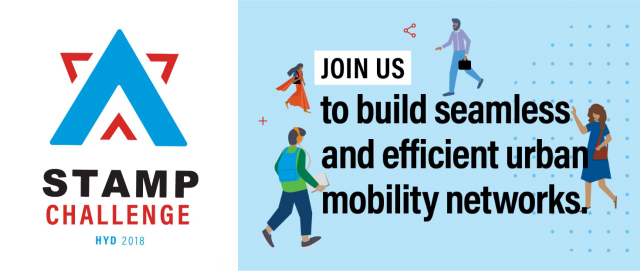 WRI India Ross Center for Sustainable cities, in partnership with Toyota Mobility Foundation (TMF) launched the Station Access and Mobility Program (STAMP) 2018 in Hyderabad.  In Hyderabad, the STAMP initiative and enterprise solutions were aimed at service-based electric first-and last-mile connectivity options to metro stations, along with other solutions that helped enable multimodal mobility. 
This focus stemmed from the interest of the government of Telangana State – of which Hyderabad is the capital – in electric mobility as a solution to the city's environment and mobility issues. In order to better understand the first and last-mile travel behavior of metro commuters in Hyderabad, the STAMP Hyderabad initiative conducted a large-scale survey of these travel patterns. 
The STAMP Challenge 2018 received over 80 proposals for improving last-mile connectivity in Hyderabad. Eleven startups were shortlisted and participated in a Comprehensive Mobility Bootcamp in August, with sessions led by experts from different backgrounds such as transit agencies, investment groups, product management, customer relations and communications.
The Pitch Day witnessed enterprises from the STAMP Cohort pitching their solutions to an eminent jury panel including the Managing Director of HMRL, leading academics and experts in the urban planning and transport sectors. The winning teams were:
Mobycy: A dockless multimodal shared mobility app that deploys smart bicycles, e-bikes and e-scooters through QR code access, IoT and GPS enabled smart devices for pickup and dropoff.
Journee: An integrated ticketing and analytics solution that enables seamless multimodal integration through pre-booking services and optimized public transport operations based on real-time data.
Three Wheels United and Bykerr: They provide on-demand integrated smart electric auto rickshaws as first and last-mile solutions for the metro with a one-time booking for an end-to-end ride.
Running concurrently with the STAMP Pitch Day, a smart mobility startup festival was organized under the STAMP platform on August 11th, 2018 at HMRL Bhavan. This mobility walk-through presented a unique opportunity for enterprises, including many from the STAMP Challenge Hyderabad Cohort to demonstrate their innovative mobility solutions to a high-profile group of ecosystem players which included government officials, transport experts, corporates, and investors.
Gallery